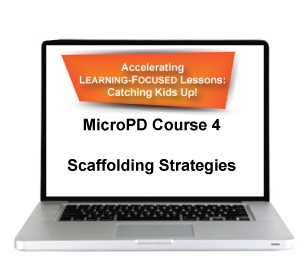 Successful scaffolding means knowing students, their abilities, their learning preferences, and what motivates them in order to correctly match the student and with the appropriate scaffold. Scaffolding is breaking up the learning into chunks and then providing a tool, or structure, for each. When scaffolding reading, for example, consider previewing the text and discussing key vocabulary, or chunking the text and interspersing discussion as students progress through the reading. Students might also receive an entirely different text to read, one that is shortened or altered, or a modified writing assignment following the reading.
In this MicroPD you will learn how to scaffold Learning Activities for curriculum content, thinking processes, or the learning environment. You will consider the criteria for planning Scaffolding and why it is essential when adapting Learning Activities.
Login
Accessing this course requires a login. Please enter your credentials below!
Lost Your Password?